Mount Everest 8.848 m
North Face
After a one year lasting preperation for this project my Cousin Tom, 10 further international mountaineers and I took a flight to Kathmandu in Nepal at the end of march 1994.
10 days later, we arrived at base camp of Mount Everest in Tibet at a hight of 5.400 meters.
Yes, Tibet ! We wanted to climb the world´s highest mountain on the "Messner- Route", that means the ascent via the north face , the Great- colouir and the Norton- Colouir without the help of artificial oxygen.
It was the 15. may 1994 when we had to turn back in the storm at about 8.300 m. It should have been our last chance to reach the summit.
Although we failed in our attempt to reach the summit the expedition has been a unique experience and a undescribeable adventure that I wouldn´t like to have missed out on it.
Special thanks to my parents and all which gave me support.
In memory of our expedition-leader and good friend Peter Kowalzik, who was killed on Mount Everest in 1996.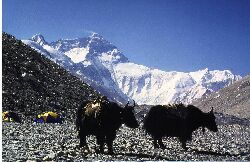 First we made good progress in preparing the camps (we used an ABC, advanced base camp at 6.200m, siuated at the end of Rongbuk- glacier, a camp I at the North- Col at 7.100m, a camp II in the middle of the north face at the hight of 7.600m, and a camp III at 8.000m) but then the weather got worse and so the conditions changed and it got more difficult to venture into greater hights.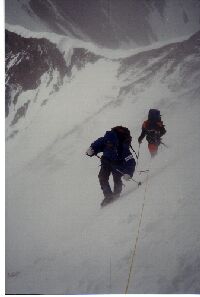 We were able to reach the advanced camp luckily healthy apart from insignificant frostbites.